A healthier, stronger playing surface through moisture content management, subsurface aeration and root zone temperature control with SubAir Sport aeration and moisture control systems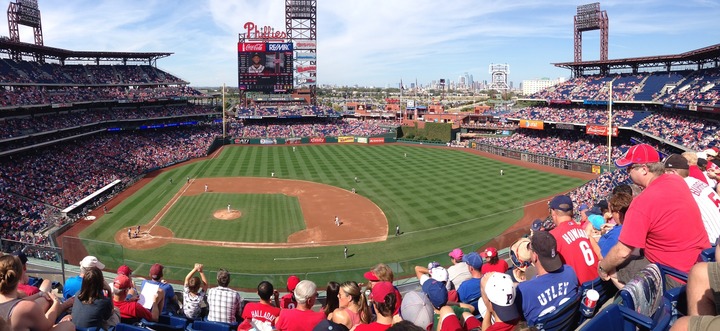 Philadelphia Phillies
Installation Date:  June 2016
Mike Boekholder – Director of Field Operations, Philadelphia Phillies
Citizens Bank Park previously used a mobile SubAir System to support turf during on field events that required turf covers. With the installation of SubAir Systems with Operations Center, full field aeration, moisture management and subsoil temperature moderation can be monitored and managed 24/7 with SubAir Systems newest monitoring and communications technology – TurfWatchTM.
SUPPORT ROOT GROWTH AND HEALTH
Produce a more predictable footing due to deeper, more densely rooted turf
Improve traction without sacrificing the injury preventing "give" of natural turf
Extend the growing season
Drain 36x faster than natural drainage alone, literally NO PUDDLING, immediate return to play
Aerate entire field at once
Reduce re-sodding
Moderate temperature extremes to maintain strong root system
 EASILY HOLD MORE EVENTS ON FIELD
Provides entire field subsurface ventilation when covered
50% faster turf recovery time after use or coverage of turf for events
80% less permanent damage after games and events (incredible improvements for events with protective turf covering)
NO PHYSICAL IMPACT ON FIELD SURFACE DURING OPERATION
No disruption to field surface in vacuum or aeration modes
No visible equipment inside the stadium playing area
Custom designed operating systems and our exclusive TurfWatch™ soil conditions monitoring system maintain optimum growing conditions.
The benefits of SubAir's performance are seen around the world in sport stadiums and golf courses around the world – CitiField (Mets), Sports Authority Field (Broncos), FIFA World Cup stadiums Brazil, 2104 Ryder Cup (Gleneagles) and Augusta, GA.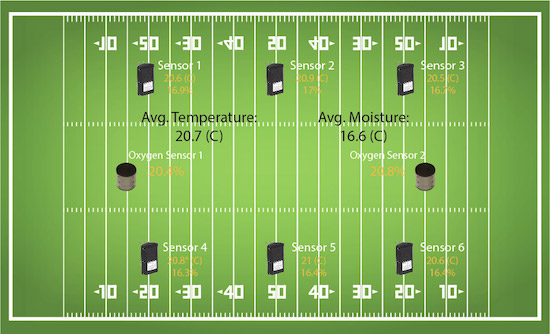 A SubAir Sport System includes complete integration with our TurfWatch™ Technology.
Oxygen and moisture sensors placed below the playing field surface report real-time soil conditions' data to the control system. Automated operation of the SubAir Sport System will activate according to set soil condition parameters set by turf managers and SubAir turf specialists. With active monitoring, the systems can respond to sudden changes in soil conditions. In a sudden downpour the vacuum systems activate to eliminate excess moisture in the soil profile. Successive high temperature days that increase soil temperature will activate aeration to moderate subsoil temperatures. With TurfWatch™ Technology, turf managers can access the field conditions via smart phones, tablets or computers. The technology retains the historical data to provide information of the impact of agronomic practices, natural phenomena and weather events on turf conditions.
The custom design of each SubAir Sport System is coordinated through our engineering design team with stadium architects and turf managers.
Throughout the construction or renovation of a field, SubAir turf specialists provide on-site installation supervision to integrate with construction workflow. Once installed, the system is commissioned to operation standards and training of the turf management team is conducted. TurfWatch Technology allows remote access to SubAir agronomists to provide support for equipment operations, turf conditions, and updates to control programs.