In order for grass plants to thrive they require certain environmental conditions. An optimum growing environment requires the proper amount of sun, proper air/water ratios, and the appropriate soil temperatures. The Hydronics system provides heating or cooling to maintain ideal root temperatures. By pumping warm or cool fluid from the holding tank to the green via a supply pipe. The fluid circulates through a network of flexible tubing under the root zone of the green. The working fluid is then returned to the holding tank. SubAir's Hydronics system is designed to condition and maintain ideal root zone temperatures during warm and cool season operation, so the grass plants thrive.
Using the Hydronics system along with SubAir creates an air flow through the root zone to evenly distribute the heating or cooling effects of the Hydronic tubing. This even treatment of the playing surface eliminates hot and cold spots in the soil.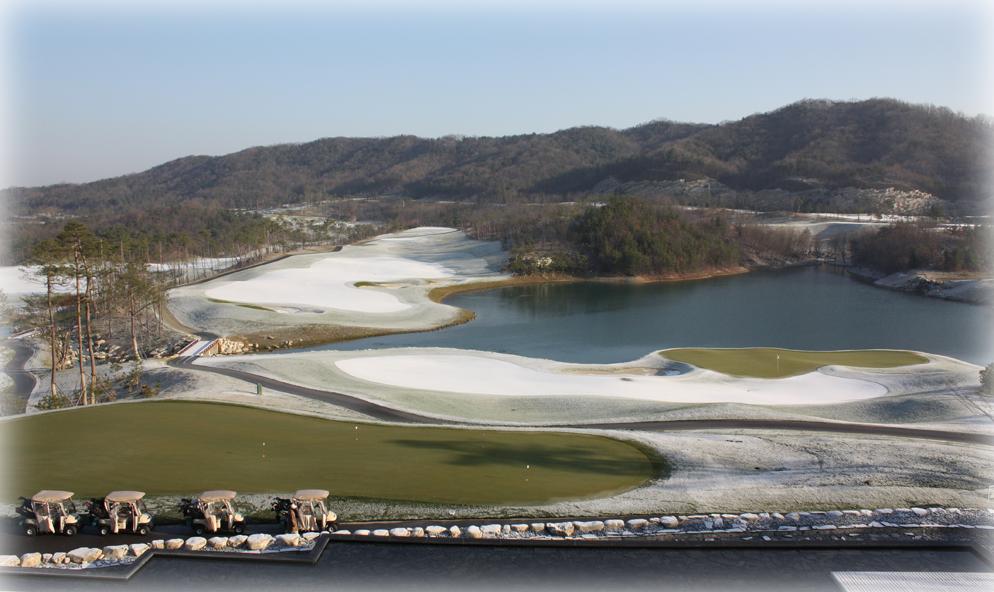 Greens at Heasley Nine Bridges Golf Club, S. Korea with SubAir Hydronics and SubAir in operation.
The Hydronics turf temperature control system consists of several important pieces of equipment – a boiler, chiller, chiller pump, green pump, holding tank, temperature and pressure instrumentation, and control enclosure. Each system is skid mounted with a tank, controls, and pump on one skid and the chiller and chiller pump on another. The skid mounted Hydronics assembly is housed away from the green in a building aesthetically pleasing to the surroundings of the golf course.