14 Nov

SubAir Use as the Weather Cools Down

 As the weather cools down, so does the busy summer golf season. With the temperatures dropping and the sun being out for fewer hours during the day, people are less likely to go out to the golf course or sports field. During these winter months, you're going to want to make sure that you're taking care of your SubAir fans. Whether you decide to keep your fans outdoors or you decide to store them inside, here is all you need to know about SubAir use as the weather cools down.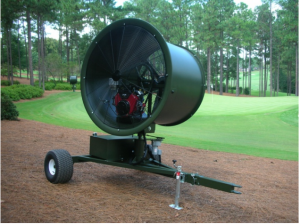 SubAir Use in the Winter
Start by cleaning your fans and giving them a check-up. All debris should be cleaned from your fan and all grease points should be properly greased. If you're thinking about storing it, make sure you have a covered, dry location available, or cover it with a fan cover. If you're leaving your fans outside, turn them on for an hour or two per month. You can purchase a durable fan cover through TurfBreeze. After the winter months are over and the spring finally arrives, you'll be ready to take your fans out of storage. At this point, you should check for proper lubrication and that all bolts are tight. Inspect belts for proper tension and wear. Once everything looks good, you can set your fans back up on the green and enjoy the benefits of using SubAir systems for another season!
SubAir Systems
SubAir Systems is the leader in air flow technology. The SubAir facility, located in Graniteville, South Carolina, houses their administrative offices, engineering, production, shipping, and sales which allows the SubAir team to provide personal service from planning to delivery. SubAir Systems is committed to providing innovative technology and premium service to meet the demands of today's green industry. If you have any questions or would like to contact someone from our team, please call us at (866) 641-6663 or contact us online.