22 Feb

 The Industry Leader in Surface Aeration- Graniteville, SC 

Surface aeration is essential for keeping your turf healthy and beautiful. SubAir Systems is the industry leader in surface aeration. We offer SubAir aeration, TurfBreeze products, and PCDrainage. Our high quality services, low prices, and great customer service make us the best surface aeration company in the area. If you need aeration services for your turf, choose SubAir Systems.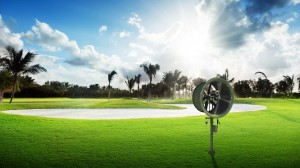 SubAir
SubAir is used primarily for good gas exchange in the soil and to create optimum air/water ratios in the soil profile. The SubAir aeration and moisture removal system promotes healthier and stronger playing surfaces through moisture content management, surface aeration, and root zone temperature control. As a result, SubAir provides optimum aerobic subsurface growing conditions. SubAir is integrated underground with no impact on the design of the golf course.
TurfBreeze
TurfBreeze is different from SubAir because it's used on top of the surface of your turf. It improves surface conditions by circulating stagnant air. The TurfBreeze maintenance-free design offers simple installation. Pre-wired fan motors, oscillating motors, and control packages come pre-assembled for easy plug-in installation.
PCDrainage
PCDrainage elements provide fast, free flow drainage, along with capillary suction to remove excess moisture. The one-inch diameter fiberglass element draws water while the stainless steel mesh core carries drainage water away with high efficiency. Install anywhere that poor drainage is a problem. After installation, only fast healing slits remain. This product is great for schools, universities, and municipalities.
SubAir Systems in Graniteville, SC
SubAir is the leader in air flow technology. The SubAir facility, located in Graniteville South Carolina, houses their administrative offices, engineering, production, shipping, and sales which allows the SubAir team to provide personal service from planning to delivery. SubAir Systems is committed to providing innovative technology and premium service to meet the demands of today's green industry. If you have any questions or would like to contact someone from our team, please call us at (866) 641-6663 or contact us online.