30 Dec

Philadelphia Phillies SubAir® – Sports System Install

Recently, Citizens Bank Park in Philadelphia has installed a new SubAir® Sports System. This stadium, famous for being the home of the Philadelphia Phillies, is now easier to maintain because of the enhanced subsoil aeration, moisture, and temperature moderation controls that SubAir® provides.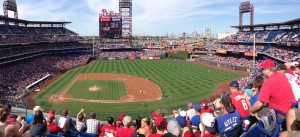 SubAir® Sports System
In the Citizens Bank Park, this system is located under the right field stands. If subsoil conditions reach levels that could damage the root zone, the system automatically responds to restore customized oxygen, moisture and temperature levels. The system not only maintains the soil, but it also allows the turf team to respond to soil conditions that change with the season to ensure that the playing surface is safe is consistent. The SubAir® system integrates new kinds of technology that work together to maintain the turf of a sports field. One of these new technologies, TurfWatch™ Technology, digitally links subsoil monitoring and the operations center. Another SubAir® System in use at this stadium are the in-ground wireless soil sensors known as Soil Scout® that alert the turf team of soil conditions, making it easier for them to make choices regarding the subsoil environment's health. Lastly, added sensors from Soil Scout® lie beneath the surface of the soil in places like the outfield, the warning track, and the home plate that send messages to the turf management team that relay important soil information like the subsoil moisture content, temperature, and salinity. 
SubAir Systems in Graniteville, SC
SubAir is the leader in air flow technology. The SubAir facility, located in Graniteville South Carolina, houses their administrative offices, engineering, production, shipping, and sales which allows the SubAir team to provide personal service from planning to delivery. SubAir Systems is committed to providing innovative technology and premium service to meet the demands of today's green industry and improve surface aeration of any turf or green you have. If you have any questions or would like to contact someone from our team, please call us at (866) 641-6663 or contact us online.